Pez Pals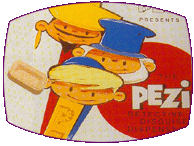 PEZ® introduced a character named Pezi. He was a detective. Pezi comics once came packaged with PEZ® Pal dispensers. The idea behind the PEZ® Pals was that all they were his disguises. There is a PEZ® Pal Colonial Judge that was shown on the candy boxes. Only one is rumored to exist.

The PEZ® Pals all have the same head. This head has holes in it. It's these holes that allow you to switch parts likes mustaches, hats, and whatnot to make new disguises for Pezi.
Maharajah

Début des années 1970s sans pied.
Il existe plusieurs variantes du Maharajah. Une version, made in Hong KOng a un turban très différent des autres.
Early 1970s no feet.
There are several variations to this dispenser. One version, made in Hong Kong, has a lightly different turban than the others.
Mariner
Mexican Boy
Milieu des années 60, sans pied.
Avec chapeau, bouc et boucles d'oreilles détachables. Il est assez difficile de le trouver avec toutes ses pièces.
Mid 1960s no feet.
With removable hat, goatee and earings, this one can be tough to find with all of his pieces.
Nurse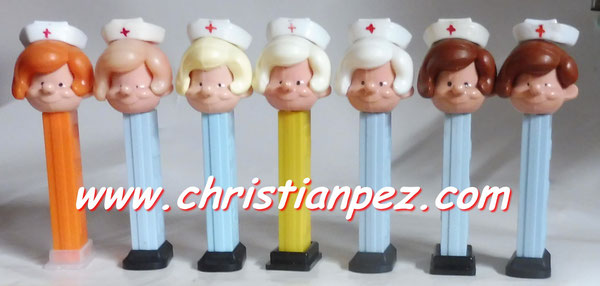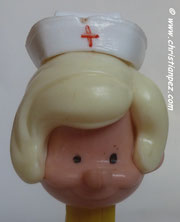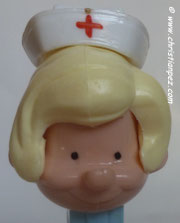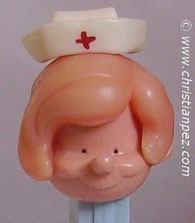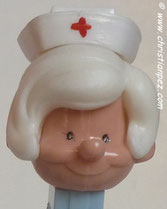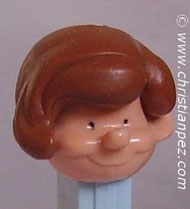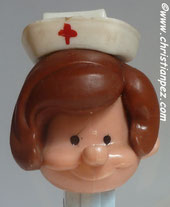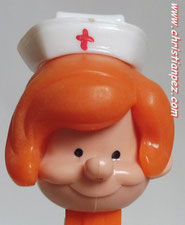 Début des années 1970s, sans pied.
Ces distributeurs existent en plusieurs versions. Cheveux brun, roux, jaunes ou blonds et différentes couleurs de "stem". Il y a aussi une variante sur le chapeau, l'un est blanc et l'autre et opaque, semi transparent qui est habituellement sur les distributeurs venant du Canada.

Early 1970s, no feet.
This dispenser is available in several versions. The Nurse can be found with brown, reddish orange, yellow or blonde hair. There is also a variation in her hat : one is a solid white and the other is an opaque or milky-white, semi-transparent color that is usually only found in dispensers that came from Canada.


Pilot Boy