Boston Scientific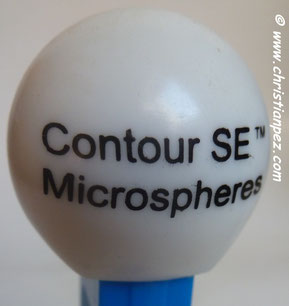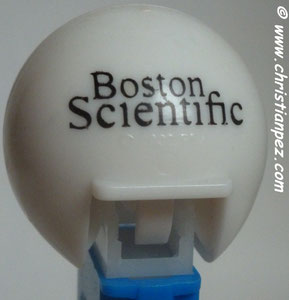 2004 With Feet
Promotional Dispenser for a Medical Device Company
Cruspi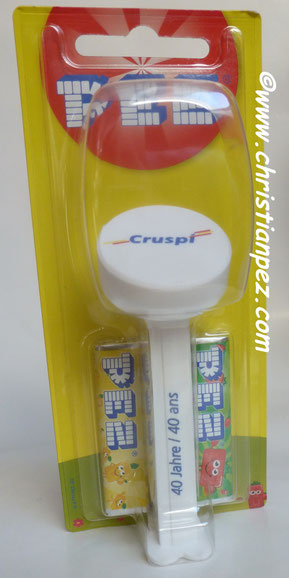 from 2012
This dispenser wasn't sell to the public,
it was used as gift ONLY :
(for employees and loyal customers of Cruspi.)
Cruspi is a Sweets and Snacks Distributor for PEZ in Switzerland
Fesi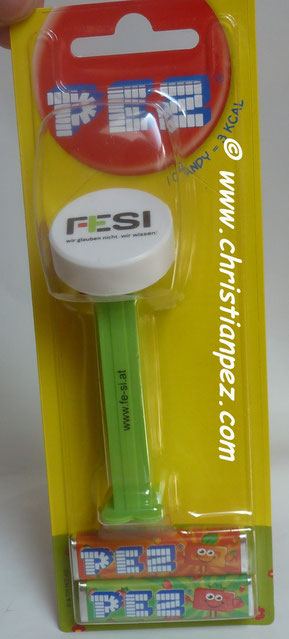 from 2015
This dispenser wasn't sell to the public,
it was used as gift ONLY :
(for employees and loyal customers of Fesi.)
Fesi is an Austrian company based in Linz.

Hard Rock Cafe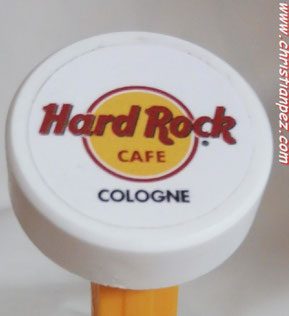 2006 With Feet
Pez International Hosted an after show party during the Cologne Candy Fair in Germany. They were done as a promotional give-a-way to thos who attended the party and were produced in very small quantity.
Hippo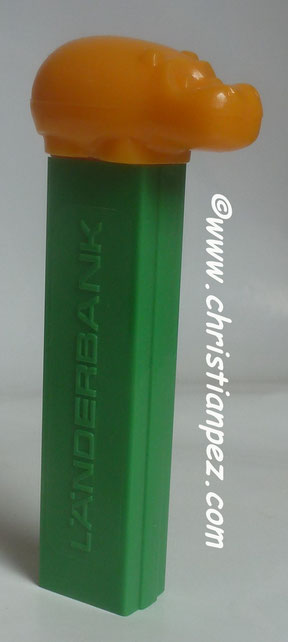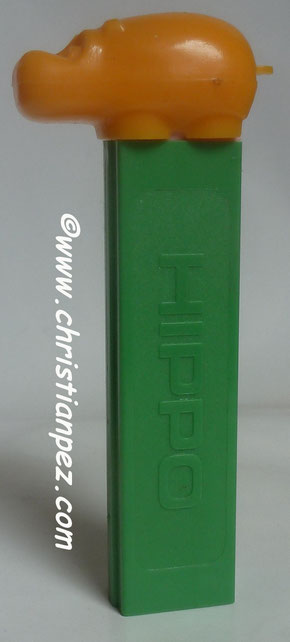 Early 1970s.

The Hippo is unusual in that it has an entire body rather than just a head. The stem is also unusual : LÄNDERBANK in one side and HIPPO on the other, no Patent, coutry or IMC

Icee Bear
Japan Flag
Make A Face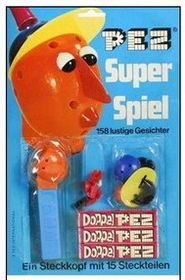 Make A Face EU Version (15 Pieces)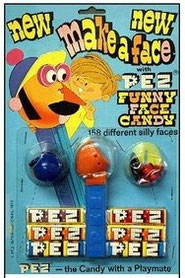 Make A Face US Version (17 Pieces)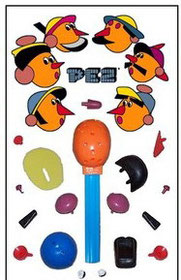 Make A Face 158 combinations

1972 No Feet
Le "Make A Face" est extrêmement rare car il a été rapidement retiré du marché en raison de problèmes de sécurité par rapport aux enfants.
Les petites pièces détachées pouvant être avalées.
Ce distributeur a été dessiné d'après les mêmes lignes que la tête de "Mr. Patate" avec des fonctionnalités amovibles.
On peut faire 158 combinaisons de grimaces.
The "Make A Face" is extremely rare because the small pieces can be swallowed by children.

This dispenser has been designed according to the same lines as the head of "Mr. Potato Head" with removable features.
We can make 158 combinations of faces.
Mystical Crystal Ball
The Mystical Crystal Ball pez comes with both silver, blue and yellow stars. One story is that the silver stars are limited. Another story is that two thousand were "accidentally" made with silver stars. In either case, the silver stars are limited to 2000 and were sold through order form only.
Cette mystérieuse boule de cristal existe avec des étoiles argentées, jaunes et bleues. Une rumeur dit que les étoiles argentées sont une série limitée. Une autre dit que 2000 ont été faites accidentellement. Quoi qu'il en soit, le nombre de boules avec des étoiles argentées est de 2000 et étaient vendues uniquement sur commande.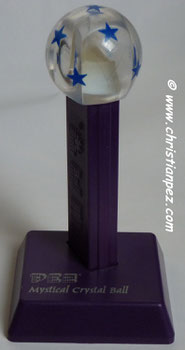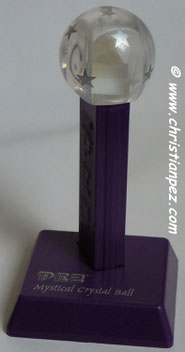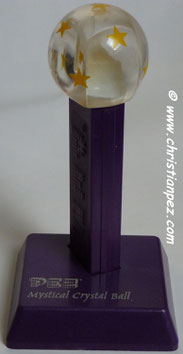 NH Hotels


- 2008 -
Mozart was made for NH hotel Salzburg Sissy was made for NH hotel Vienna and the boy was made for the NH hotel airport Schwechat
PezHead The Movie
This limited edition dispenser was available exclusively with the purchase of the "Pezheads: The Movie" DVD (www.pezheadsthemovie.com). It is a great documentary about Pez collectors, conventions, and Pez Inc.
Cette édition limitée de distributeur était exclusivement disponible avec l'achat de
"Pezheads: The Movie" DVD (www.pezheadsthemovie.com). C'est un grand documentaire à propos des collectionneurs de Pez, les conventions et Pez Inc.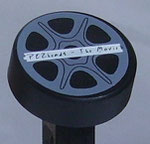 2007 with feet
2007 avec pied
Pif The Dog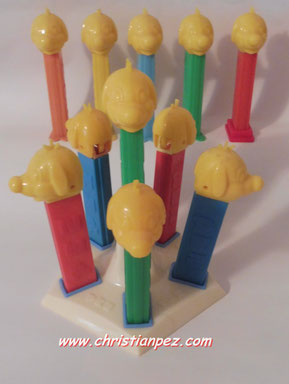 Pez offert avec le PIF gadget N° 477 du 11 Mai 1978 et le 807 du 11 Septembre 1984.

Il existe une version avec pied qui était offerte avec une bande dessinées en Allemagne (YPS) en 1989.
Characters was a Pif gadget premium (French comics) twice. The first one in 1978 and the second in 1984.
There is also a feet variation that was a YPS premium (German Comics) in 1989.
Pirate Puck
Polizist Ferdinand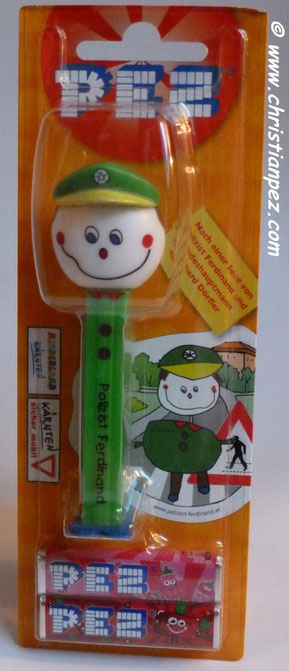 2013
PEZ policeman is a legitimate dispenser. It is NOT fantasy.
It is given out to kids at road safety instruction courses only.
It is limited to Carinthia (federal state of Austria) and a local-only promotion.
It is not available in shops.
Therefore it is and will be highly limited.
Ferdinand has a painted foot and a logo printed on the back of the stem.
Scoupe & Tourbillon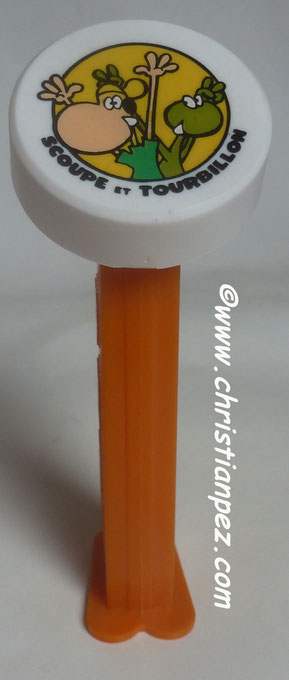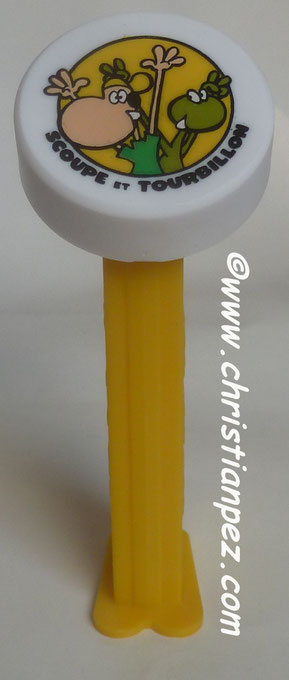 2015
Scoupe & Tourbillon is a comic
published is a newspaper nammed « Le Petit Quotidien » for children from 6 to 9 years old.  It has a brother newspapaer « Mon Quotidien » which is for children from 10 to 14 years.
It has only 4 pages. it informs children about actualités mainly in Zoology.
Sparefroh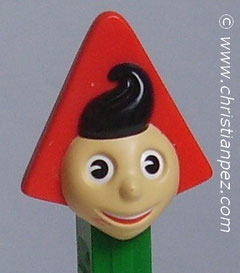 2009 with feet
2009 Avec pied
"Sparefroh" is German for "happy saver". October 31st of each year in Europe is world Savings Day when all people are encouraged to save money in a bank.This was a gift for children who put money in their bank account on that day.
"Sparefroh" est Allemand est signifie "Bonnes économies". Le 31 Octobre de chaque année en Europe est le jour des économies où les gens sont encouragés à déposer de l'argent sur leur compte en banque. Ce distributeur était un cadeau pour les enfants qui déposaient de l'argent ce jour là. 
Sumsi

The bee Sumsi is a comic advertising figure of the Raiffeisen banks in Germany , Austria , Switzerland, Italy, Belgium and Luxembourg . It is intended as a role model for young savers to 10 years.

The figure in the savings bee was invented at the end of the sixties the awesome graphic artist Egon Kingerter . Since the designs not found enough favor with a first presentation in 1968 , Sumsi disappeared in the desk drawer . 1974 Peter discovered Höftmann , later editor of the AMI Communication Agency , the little bee again and presented them to the Austrian and German cooperative banks. This time, the bee was able to convince , especially since other banks already had a child figure. And so, in 1978 appeared the first comic book , the Sumsi magazine or Sumsi - mail in Austria. This magazine is produced in central Stuttgart until today - in three languages . German , Italian and French . As Egon Kingerter had died in 1972, he no longer saw the flight of his bee. So now already designed five different artist always recent versions of Sumsi are , however, remained her red gloves and shoes. Only the headgear it changes depending on the occasion today . Also, the magazine has been modernized so that young people should also feel concerned through 14. Also has its own website Sumsi today . http://www.sumsi.com/
Moreover Sumsi is used in banks to money boxes , stationery and various children's events . By some banks as a children's savings days , the Sumsi - saving days are offered . As with the World Savings Day there is little gifts for the young savers that come with their Sumsi - savings accounts to the bank.
Target Dog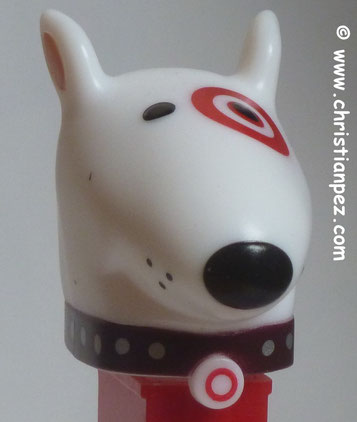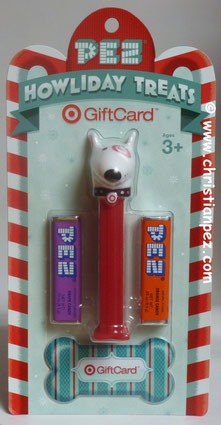 2013

Target gift card with an exclusive Target Dog Bull Terrier Bullseye Pez toy. It is new and ready for you to add money to it (it has been zeroed out) to give as a gift.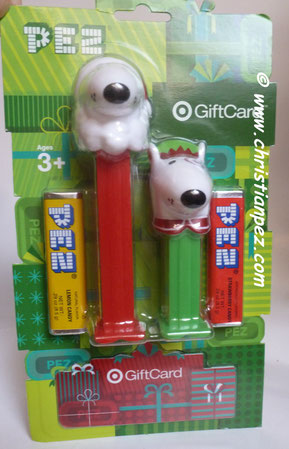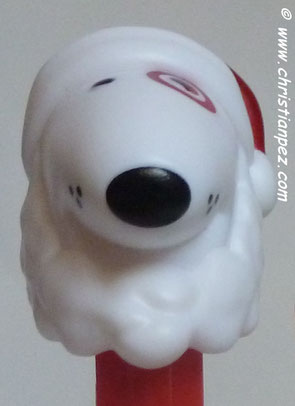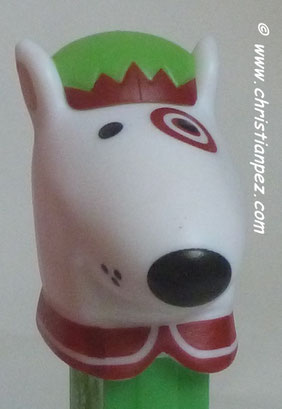 USA Hearts
Usa Heart, This dispenser is a Pez® Exclusive which is available only through online/Order Form. (2009) No Feet
Usa Heart, ce dsitributeur est un Pez® exclusive uniquement disponible en commande en ligne.
Viktor Käsebeisser

2013
The character is called "Viktor Käsebeißer (Victor Cheese eater) It was mainly created as give-away for this year's world savings day on Oct 31th (a.k.a. this year's Sparefroh)
Zielpunkt

1999 with feet
The Zielpunkt dispenser was made exclusively for the Austrian Supermarket chain, Zielpunkt. This came out in August of 1999 and are for sale in Austria. Although, there are many sites out all over that have them for sale. The word Zielpunkt is German for "on target".
Le distributeur Zielpunkt a été créé uniquement pour la chaine de supermarchés Autrichien Zielpunkt. Il est sorti en Août 1999ET tait vendu en Autriche. Quoique, il y a beaucoup de sites qui les ont eu à la vente. Le mot Zielpunkt est allemand 
et signifie "objectif".