Captain Hook
Captain James Hook (James is sometimes shortened to 'Jas') is a fictional character and the main antagonist of J. M. Barrie's play Peter Pan; or, the Boy Who Wouldn't Grow Up and its various adaptations. The character is a villainous pirate captain of the Jolly Roger brig, and lord of the pirate village/harbour in Neverland, where he is widely feared. Most importantly, he is the archenemy of Peter Pan. It is said that Hook was "Blackbeard's boatswain, and that he was the only man Long John Silver ever feared." His only two fears are the sight of his own blood (which is supposedly an unnatural colour) and one fateful crocodile.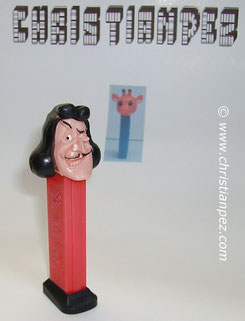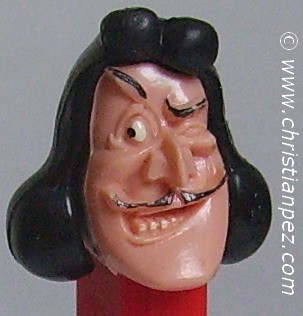 Fin des années 1960s sans pied.
Une très rare softhead version de ce personnage a été produite à la fin des années 70, mais n'a pas fait l'objet d'un production générale.
Late 1960s no feet.
A very hard softhead version of this dispenser was produced in the late 70s, but never went into general production.