Madagascar
Alex Lion (M.O.C.)

3.00 Usd / 2.30 €
This is the new lion which is clearer than the former shawn on picture.
Il s'agit du nouveau lion qui est plus clair que celui de la première série.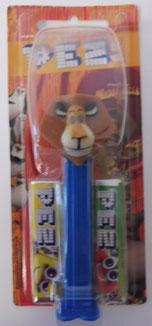 Gloria Hippo (M.O.C.)

3.00 Usd / 2.30 €
2 Pez Marty Zebra (M.O.C.)

6.00 Usd / 5.00 €
One is light grey and the other one is dark grey.
L'un à le museau gis clair et l'autre gris foncé.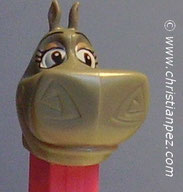 Gloria (Loose)(3)

2.00 Usd / 1.40 €
Patent :4.966.305
Made in : Hungary 1
Gloria (Loose)(5)

2.00 Usd / 1.40 €
Patent :5.984.285
Made in : Hungary 1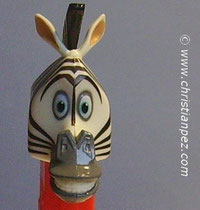 Marty Dark Nose(Loose)(3)

2.00 Usd / 1.40 €
Patent :4.966.305
Made in : Hungary 1
Marty Dark Nose(Loose)(2)

2.00 Usd / 1.40 €
Patent :5.984.285
Made in : 6
Marty Dark Nose(Loose)(2)

2.00 Usd / 1.40 €
Patent :5.984.285
Made in : China 6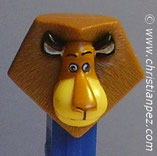 Marty Clear Nose(Loose)(1)

2.00 Usd / 1.40 €
Patent :7.523.841
Made in : China 6

Madagascar On Card (M.O.C.)

Melman the Giraffe is sold
$ 3.00 / 2.30 € / Piece

Madagascar On Card (M.O.C.)

$ 3.00 / 2.30 € / Piece