Asterix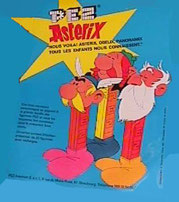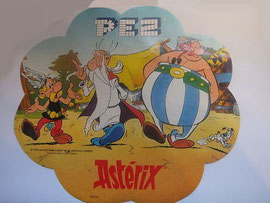 C'est la seconde série Asterix. La première comprenait : Asterix, Obelix et Muselix(Panoramix).

Asterix est le personnage de bandes dessinées le plus connu de René Goscinny, qui a écrit les scénarios et Albert Uderzo, qui a fait es dessins. Il est sorti le 29 Octobre 1959 dans l'hebdomadaire Pilote. Trente ans plus tard, Asterix reste un symbole de qualité de la littérature de divertissement, et sa popularité internationale n'a jamais été égalée. Les 34 histoires publiées ont été traduises en 40 langues et plus de 220 millions de livres ont été vendus à travers le monde. La perpicacité et l'enthousiasme du petit guerrier Gaulois avec son casque ailé a fait de lui la principale figure de la résistance contre les envahisseurs Romains et le héros de toutes les histoires.
This is the second Asterix line that PEZ® has come out with. The first series had one Asterix, Obelix, and Muselix.

Asterix is the main character of the comic books created by René Goscinny, who wrote the text, and Albert Uderzo, who did the drawings, first saw the light on October 29, 1959 in the weekly magazine Pilote. Thirty years later, Asterix remains a symbol of quality entertainment literature, and his international popularity has never waned. The 34 stories published so far have been translated into 40 languages and more than 220 million books have been sold in the world. The shrewdness and enthusiasm of the little Gaulish warrior with the winged helmet have made him the main figure in the resistance against the Roman invaders, and the hero of almost all of the stories.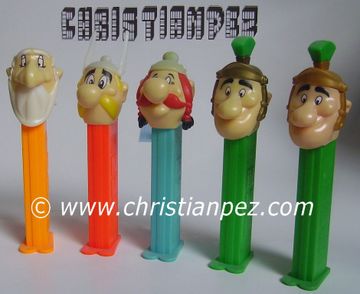 Asterix A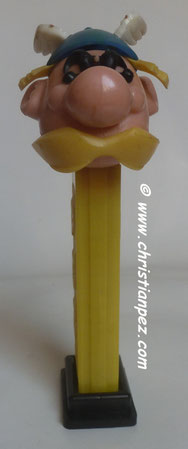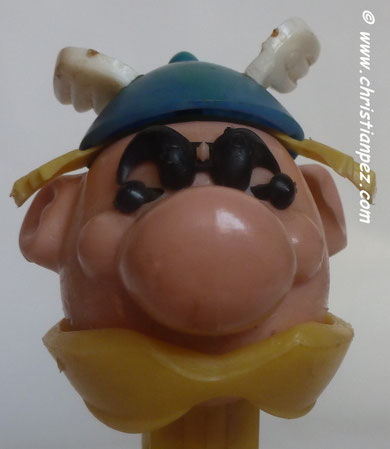 Muselix (Panoramix) A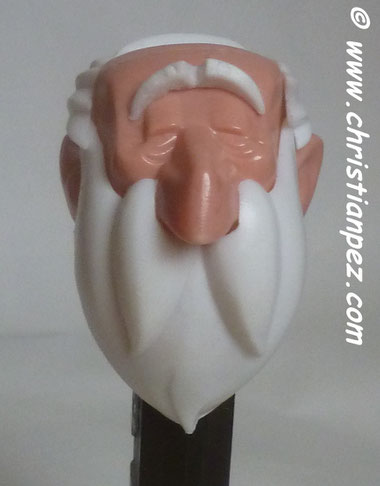 Asterix B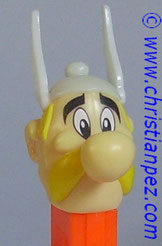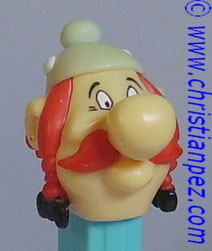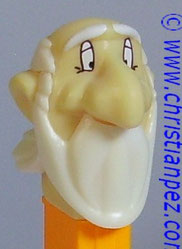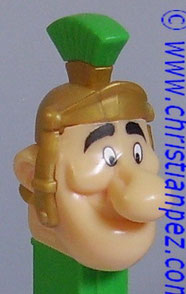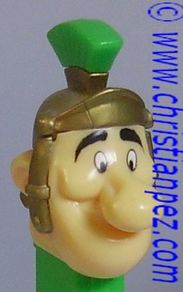 Fin des années 1990s avec pied
End of the 90s with feet
La première série n'a pas été produite aux Etats-Unis. Elle comprenait 3 pièces : Astérix, Obélix et Panoramix. Elle est sortie au milieu des années 70; Le lègionnaire a été ajouté à la nouvelle série.
Asterix is a a popular European comic. These dispensers have not been releases in the U.S. The serie was first produced by PEZ® in the mid -1970s and a remake of the original series was released in the late 1990s. The remakes have feet and painted-on eyes. The Roman Soldier was not included in the original series.