Havoline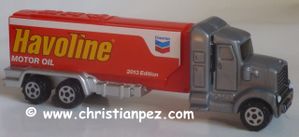 2013
Havoline is a motor oil brand of Texaco, a former major oil company based in the United States that is now merged with the Chevron Corporation.
First introduced in 1904, the Havoline brand was named by Havemeyer Oil Company of New York. In 1906 the Havoline Oil Company separated from the Havemeyer Oil Company. In May 1909, It was bought by the Indian Refining Company, and registered as an official product of the company but kept the logo. By 1910, the Indian Refining Company already had the Havoline oil manufactured. To boost sales & advertise the product they offered to fuel the first plane to fly coast to Coast. Over 300 auto makers wanted it. In 1915 due to over production they had to halt operations. In 1931 it once again changed hands when the Texas Oil company (now Texaco) bought the Indian Refining Company. In 1946 a break through in technology improved Havoline.
In 1962 they changed the logo, replacing the old Indian logo. That same year new products were introduced, Havoline 10W-30, and Havoline Singlegrade. In 1968 Improved Havoline & All Temperature Havoline were introduced, followed by Havoline Super-Premium All Temperature Motor Oil in 1971. In 1972 they scored big when they sponsored Emerson Fittipaldi who became a world champion in Formula One. In 1978 they sponsored Janet Guthrie, a CART and Nascar driver. In 1979 Texaco ends the decade with a new product called Havoline Supreme 10W-40, which superseded Havoline Super-Premium. In 1984 a major breakthorugh came with the SAW 20W-50 to keep up with growing demand. From 1986-2002 They sponsored the Robert Yates Racing #28 which is now the #38, Havoline's last sponsorship was with Juan Pablo Montoya in the #42 Dodge for Chip Ganassi Racing with Felix Sabates. At the end of the 2008 NASCAR season, Texaco Havoline officially ended their sponsorship with NASCAR and the Chip Ganassi Racing Team. This brings to a close a 20-plus year relationship with the sport. After ending its sponsorship with NASCAR, Havoline became a "Corporate Champion" sponsor of the Atlantic Coast Conference (ACC)."
In 1991 they launched the Formula 3, which became popular all over the world. In 2001 a new logo and package design came out for the whole line of products.
In 2001, Texaco merged with Chevron but the Havoline brand name has been retained for all Texaco motor oils and other lubricating products along with anti-freezes.
The Havoline brand now carries the Chevron logo.
Virsona Trucks
Virsona Pez Trucks were created in 2007 for the www.virsona.com website.
It was a limited production run of 1000 trucks, and was a special order printed
through Pez. 100% authentic Pez product. The virsona logo is printed on the side
of each truck, and the website domain name www.virsona.com is printed on the
top of each truck. There are 8 different trucks, with production of 125 of each.
The majority of these were given out at electronic and computer software trade shows.
Les Virsona Pez Trucks ont été créés en 2007 pour le site www.virsona.com.
Ce fut une production limitée de 1000 camions, et ce fut une commande spéciale à PEZ. 100 % authentique produit Pez. Le logo Virsona est imprimé sur le côté de de chaque camion et le nom de domaine internet www.virsona.com est imprimé sur le dessus de chaque camion. Il y a 8 camions différents, avec une production de 125 chacun. La majorité de ceux-ci ont été distribués au "electronic and computer software trade show.
Walgreens
Walgreen Co. (NYSE: WAG), d/b/a Walgreens (without an apostrophe), is the largest drugstore chain in the United States. The company operates 7,600 drugstores across all 50 states, the District of Columbia and Puerto Rico. Walgreens provides access to consumer goods and services and pharmacy, health and wellness services in America through its retail drugstores, Walgreens Health Services division and Walgreens Health and Wellness division. Walgreens Health Services offers pharmacy patients and prescription drug and medical plans through Walgreens Health Initiatives Inc. (a pharmacy benefit manager), Walgreens Mail Service Inc., Walgreens Home Care Inc., Walgreens Specialty Pharmacy LLC and SeniorMed LLC (a pharmacy provider to long-term care facilities). Walgreens Health and Wellness division includes Take Care Health Systems. Walgreens has 7,600 drugstores as of September 30, 2010. Walgreens was founded in Chicago, Illinois in 1901, and has since expanded throughout the United States. Its headquarters is located in the nearby suburb of Deerfield, Illinois.
Wal-Mart
Wawa
Wawa 2010
Wawa Inc. is a chain of convenience store/gas stations located in the Mid-Atlantic region of the United States. It operates in Pennsylvania, New Jersey, Delaware, Maryland, and Virginia. The company's corporate headquarters is located in Chester Heights, Pennsylvania, near the community of Wawa.
Wegmans
Wegmans Food Markets, Inc. is a family-owned U.S. regional supermarket chain headquartered in Gates, New York, near Rochester. Wegmans has more than 75 stores spread across the mid-Atlantic region, in New York, Pennsylvania, New Jersey, Virginia, Maryland and in 2011, Massachusetts. Founded in 1916 in Rochester, New York, Wegmans has appeared on Fortune's annual "100 Best Companies to Work For" list since its inception in 1998, and has ranked among the top 10 for eight consecutive years. Food Network recognized it with its award for Best Grocery Store in 2007] and Consumer Reports ranked it the top large grocery chain in the United States in 2009.
Winn Dixie
Winn Dixie 2009
Winn-Dixie Stores, Inc. (NASDAQ: WINN) is an American supermarket chain based in Jacksonville, Florida. Winn-Dixie has ranked number 24 in the 2010 "Top 75 North American Food Retailers" based on 2009 fiscal year estimated sales of $7.3 billion by Supermarket News.and was ranked the 43rd largest retailer in the United States based on 2006 revenues by Stores magazine. Winn-Dixie currently operates 485 stores in Florida, Alabama, Louisiana, Georgia, and Mississippi. The company has existed under its present name since 1955 and can date its roots back to 1925.
Prior to filing for Chapter 11 bankruptcy in 2005, Winn-Dixie was listed in the S&P 500 and had been traded on the New York Stock Exchange under the ticker symbol "WIN" since February 18, 1952. The company is currently traded under the symbol "WINN" on the NASDAQ. The bankruptcy also left the chain with fewer stores than it had in the late 1960s.
They are known for their private label Chek brand soft drinks, which are produced in over 20 different flavors plus diet and caffeine-free varieties—one of the widest assortments. They have also been known as "The Beef People". In its advertising and print media Winn-Dixie now uses the brand promises of "Fresh Checked Every Day" in its Jacksonville DMA, "Getting Better All The Time" in its locations in Central Florida, "El Sabor De Tu Pais", or "The Flavor Of Your Country", in its Miami area stores, and "Local Flavor Since 1956" in its Louisiana area stores.