Pete The Cat
Pete(also called Peg-Leg Pete, Big Bad Pete and Black Pete, among other names) is a funny animal cartoon character created in 1925 by Walt Disney and Ub Iwerks. He is a character of The Walt Disney Company and often appears as an archnemesis and the main antagonist in Mickey Mouse universe stories. Pete was originally an anthropomorphic bear, but with the advent of Mickey Mouse in 1928, Pete became a large black cat, the persona for which he is most often associated. His species later became more ambiguous in the Goof Troop franchise (1992–2000) where he appeared more canine. Pete is the oldest continuing Disney character, having debuted three years before Mickey Mouse in the cartoon Alice Solves the Puzzle (1925).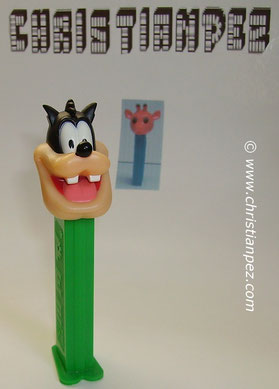 2009 avec pied
2009 With Feet.
Pete (also known by variations of his name, including Peg-Leg Pete, Bad Pete, Big Pete, Big Bad Pete, Black Pete, Bootleg Pete and Mr. Peter Pete) is a Disney character from the Walt Disney Company studios. He is an anthropomorphic cat and is sometimes depicted with a peg leg, and known as the arch-nemesis of Mickey Mouse, Donald Duck, and Goofy. The comic book story "Mickey's Strange Mission" from Walt Disney's Comics & Stories #245 (1961, by Carl Fallberg and Paul Murry) gives Pete's full name as Percy P. Percival. Though usually associated with the Mickey Mouse universe, Pete appeared in Disney's animated cartoon series Alice Comedies before the first appearance of Mickey Mouse, and is Disney's oldest continuing character. He was a relatively obscure character until appearing as a regular character in the 1990s TV series Goof Troop. Though Pete is officially a cat, his feline appearance was later subdued. In Goof Troop, he resembled a dog like many other characters in the series. Pete is a V.I.P. member of the Mickey Mouse Club. Wizard Magazine rated him #4 in the countdown of The 100 Greatest Villains of all Time
Pete (également connu par les variations de son nom, Peg-Leg Pete, Pete Bad, Big Pete, Big Bad Pete, Black Pete, Pete Bootleg et M. Peter Pete) est un personnage de Disney créé par les studios Walt Disney Company. C'est un chat anthropomorphique, il est connu comme l'archi-ennemi de Mickey Mouse, Donald Duck et Goofy. L'histoire de la bande dessinée "Mickey's Strange Mission" de Walt Disney's Comics & Stories # 245 (1961, par Carl Fallberg et Paul Murry) donne le nom complet de Pete comme Percy P. Percival. Bien que généralement associé à l'univers de Mickey Mouse, Pete paru dans Comédies cartoon dessin animé de Disney Alice avant la première apparition de Mickey Mouse, et est le plus ancien des personnages de Disney. Il avait un caractère relativement obscur jusqu'à l'apparition en tant que personnage régulier dans les années 1990 séries télé Full Throttle. Bien que Pete est officiellement un chat, son apparence féline a ensuite été transformée. Dans Goof Troop, il ressemblait à un chien comme de nombreux autres personnages de la série. Pete est un V.I.P. membre du Mickey Mouse Club. Wizard Magazine le place en n ° 4 dans son hit parade des 100 plus grands méchants de tous les temps.