Cool Cat
Cool Cat was a tiger (whose design was very similar to that of The Pink Panther and Snagglepuss) who wore a stylish green beret and scarf. Unlike most other Looney Tunes characters, Cool Cat was unapologetically a product of his time. He spoke in 1960s-style beatnik slang and acted much like a stereotypical laid-back 1960s teenager — he was often seen strumming a guitar or traveling cross-country in his dune buggy. One cartoon — McKimson's Bugged by a Bee — depicted him as an alumnus of "Disco Tech" playing varsity football against the long-haired team from "Hippie University"..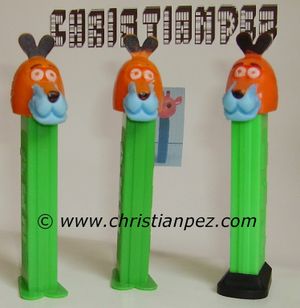 Début des années 1980s, avec et sans pied
Early 1980s, no feet and with feet.